HOW
How to reach MARCHE REGION
How to reach Civitanova Marche
How to reach the house among the olive trees
How to reach me:
Dear GUEST, how to reach me is necessary to find your bed and breakfast in Italy, my bb is la casa tra gli ulivi, it means "Bed and breakfast the house among the olive trees" in Civitanova Marche. You will discover my land, LE MARCHE Region, they are situated in the center of Italy. Obtain descriptions to arrive early in Civitanova Marche you will help start your rest, your best holiday. I will try to explain how to do to reach my home among the olive trees
.
In the meantime at a first view I show to you where Civitanova Marche is collocated. Pay attention to the directions:
– from Bologna, that is my north,
– to Pescara, that is my south,
- Civitanova my town is, more or less, in the middle between  Bologna and Pescara

.
My Address:
Sandra Ruggeri – Bed and Breakfast LA CASA TRA GLI ULIVI (B&B the house among olive trees) – Strada Provinciale Civitanova Marche / Fontespina 25/A (SP27)  – 62012 Civitanova Marche (MC) – Marche Region – Italy –
Mob: 00 39 388 9222187
mail: sandra@lacasatragliulivi.com
.
MAPS Position

:
1) If you are arriving from the South or from the Nord,  you can take the Motorway Exit at "CIVITANOVA MARCHE MACERATA" and you will arrive to me (from the exit, to me: 8,3 km – 12 minutes) Follow the map
2) If you arriving from the Nord you can take also the Motorway Exit at "PORTO RECANATI LORETO" and you will arrive with the "STATALE 16 " means the Adriatic Road" to me (from the exit to me 25.6 km -20 minutes) Follow the map
3) If you arriving from the West, you need take the SS77 from Foligno to Civitanova Marche and you will arrive to me Follow the map
.
Geographical Coordinates

:
Latitude 43.32416303185616
Longitude 13.69720458984375
.
This in my gate
This is my gatethe and the number is 25/A (pay attention there are an'other gate completely similar to the mine, but the number is only 25, that is not my gate)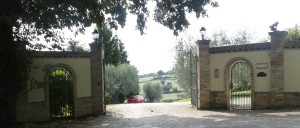 .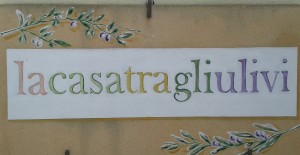 .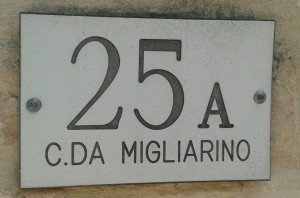 .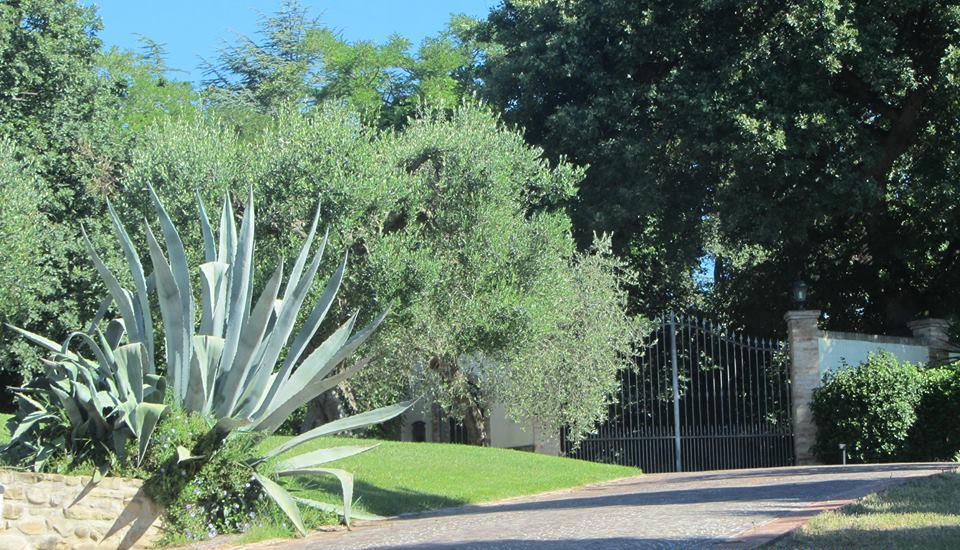 With

Google

Maps:
Please write on Google Maps:
"la casa tra gli ulivi Civitanova Marche"

after this, it will be easier to arrive to me, to the bb the house among the olive trees at Civitanova Marche see the view 1

.
.
Please note:
D

o

not

get

to the b&b

with

GPS

,

you will make

a

wrong

direction -
Anyway, you can tell me your arrival time, and I will come with my car, with pleasure, to pick up you at the motorway exit. 
Airports close to me
La Casa tra gli Ulivi is located on the Adriatic Coast in the Marche Region, easily accessible from the following airports:
2) Pescara airport (1.15 hoursby car )
3) Rimini airport (1.30 hours by car)
4) Bologna airport (2.30 hoursby car )
5) Rome airport (3 hours by car).
Car Hire is necessary to explore this beautiful region.
You can book through all the major car hire companies. However, we have arranged an excellent price reduction for our guests through Rentpro who we used many times previously and are reliable.
To obtain a quotation please email rentpro@katamail.com and quote la Casa tra gli Ulivi / Sandra Ruggeri to ensure you obtain the discounted rate or alternatively telephone Enrico Ruggeri (English speaking) on 00 39 329 3704265.